Gremlins Online Slot (Red7): Overview
Yes, this is the branded slot of the classic movie Gremlins that was released back in 1984. There was sequel and a few spin-off products including a physical slot from partners WMS. But this must be the first time the little green guys have graced a video slot. Why now? Who knows, but we have Red7 to thank for bringing Gizmo and the gang to the reels this time round. These branded slots can be a real emotional minefield. If you were a fan of the original you really really want them to be good. When they are, it's a magical moment. When they fall short, well, they really fall short, and the disappointment can be heart-breaking. What is Gremlins to be?
The game gets off to a nice start. The soundtrack is a slightly remixed version of the very same one that came with the movie. The 5 reel, 3 row grid is set in Billy's bedroom. The place he spelt water on Gizmo to create the clones. Not to mention, accidentally feeding them after midnight and spawning the fiendish Gremlins. Make sure to play on landscape mode to get the full effect. The setting is ideal; the vibe has a retro 80s feel, so far so good. Players keep the good times rolling by selecting bets from 20 p/c to £/€100 per spin, and away they go.
The paytable is crammed with info so let's start with the symbols. The low pays are some average looking J – A royals, with popcorn, and a shake in the mid-table. The high pays are 3D glasses, a microwave, and the game's Logo. The Logo is the highest paying regular symbol and is worth 25 times times the stake for five of a kind. The Gremlin symbol is wild which substitutes for all other pay symbols and is worth 50 times the stake for a combination of five. RTP is a healthy 96.47%, and the game appears to run with relatively high volatility, although this is yet to be confirmed. Gremlins can be tough to crack with a lot of dead spins and low level wins. With patience, however, there are a good number of bonus games to unlock along the way too.
Gremlins Online Slot (Red7): Features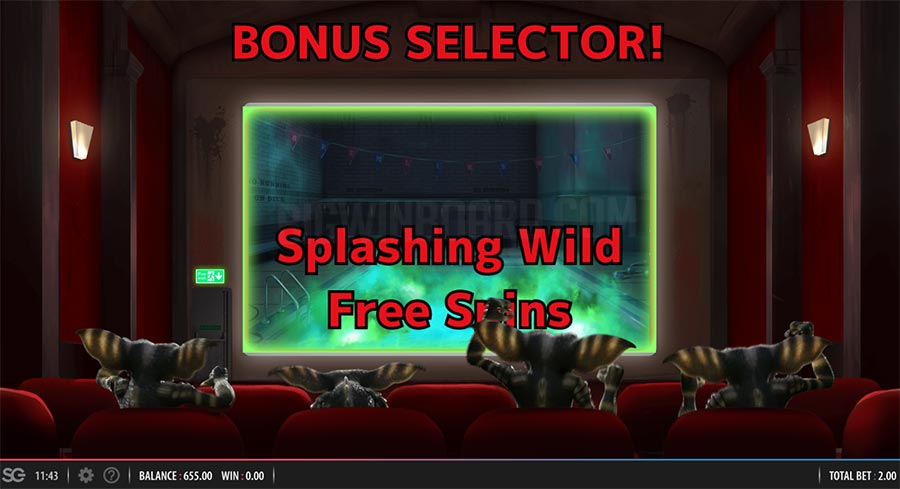 The key to the features is the Gizmo Bonus Symbol which lands on reels 1, 3 and 5 – three are needed to trigger the Bonus Selector. The action shifts to a movie theatre, with a bunch of  mischievous gremlins misbehaving in the seats. The screen rotates the names of the bonus games until randomly stopping and selecting one of them for the proceeding round. There are five bonus games in total:
Splashing Wild Free Spins: 8 free spins where any wilds dive into the pool to stack the reel. Free spins can be retriggered by landing 3 more Bonus Symbols.
Gremlin Link Free Spins: This feature starts with three lives. Whenever a spin occurs without a Stripe symbol a life is removed. When Stripe lands, it resets lives back to 3. An extra reel is added during this feature which contains Gizmo multiplier symbols with x2, x3, or x5 values. The feature ends when lives fall to zero.
Avoid the Sun Free Spins: There is no limit to the number of free spins in this feature. When 8 free spins pass then Persisting Wilds are activated. When one of these wilds lands it remains locked on the reels for the remainder of the feature. One new symbol comes into play – the sun symbol. When 11 sun symbols land in total the feature ends.
Gizmo Box Hunt: This is a picking game with 4 levels and 9 boxes per level. Players open boxes one at a time to reveal Cash Values, 'Level Up', or 'Collect'. 'Level Up' moves players to the next level where the prizes are greater. Pick 'Collect' and the feature comes to an end.
No More Cash After Midnight: A trail of multipliers leads Gizmo to a roast turkey. Players spin a wheel that has numbers 1 – 12. Land a number and move that many spaces forward. Unless that number is 12 (midnight), then the round ends, and whatever multiplier Gizmo is on is applied to the total bet level. Multipliers go as high as x100.
During the base game, water can drop on a wild to make it multiple like in the movie. Known as the Stripe Wilds feature, this sprinkles several extra wilds randomly on the reels. A similar thing can happen when one or two Bonus Symbols land to multiply their number (Freebie Bonus feature). One last point is that wilds can randomly be replaced by Bonus Symbols as well (Bonus Entry feature).
Gremlins Online Slot (Red7): Verdict
There are two ways we'll dissect Gremlins. One is as a nostalgia trip, the other as a pure slot. On that first point, Gremlins is pretty good. The setting is familiar, as are the characters, not to mention the instantly recognisable soundtrack. As a sweet little trip down memory lane, it is quite enjoyable. On to the second point then. Removing emotion and judging Gremlins solely on its slot merits, it's a bit of let-down. There is a sweet spike of emotion after the game first loads and a few warm-up spins. But, it gets tedious quite quickly. Not much happens during the base game and landing even a line of 5 feels like an epic accomplishment. It also appears as though Red7 have peeked at Blueprint Gaming and their portfolio of branded slot in an attempt to come up with something similar. Unfortunately, it only makes it come across as a bit of a knock-off for those of us familiar with those games.
When the Gizmo symbols finally land, which can take an age, the bonus games are decent. Particularly the free spin rounds where best returns can be had. Again, they are tricky to unlock though. The most common bonus game during testing was No More Cash After Midnight. But with maximum possible wins of 100 times the stake, there isn't a whole to play for there. When it comes to potential, Red7 has capped total wins from one game at 250,000. This seems more a technical issue rather than something to aim for. A full grid of wilds could net 1,000 times the stake, though hard to pull that off.
So is Gremlins a case of relying too heavily on branding to do most of the work? Perhaps. But the game has entertaining moments when luck and patience come together. Testing saw more tedium and frustration build up rather than excitement. Maybe our expectations were too high. All up, Gremlins is okay, a bit disappointing. Like all branded slots, if you liked the subject matter, it's hard not to give it a spin for old time's sake.